>
Founder Chairman's Vision & Mission
Founder Chairman's Vision & Mission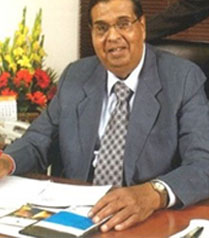 Late Shri. Daya Krishna Goyal
[ Founder Chairman ]
Vision
To become a leading Engineering Procurement and Construction (EPC) company from India.
Mission
To deliver high quality complete project solutions in developing countries, to satisfy customers through competent workforce.
Angelique International Limited started in 1996 from a modest beginning. In the past decade we have grown substantially. Angelique has focused on core sectors which are power generation, transmission and distribution, water supply and distribution, irrigation & agriculture and industrial projects. Further focus has been in countries of operation which are mainly in all parts of Africa, SAARC and ASEAN regions. In the year 2006, Indian market were also started which are being consolidated.
What has been achieved in this short period is due to the vision and hard work; dedication and sincerity of Angelique team which comprises mostly of highly qualified engineers, chartered accountants, MBAs and other professionals.
Key word for our growth and success is "focus" and further "focus on focus". We intend to continue to work on this philosophy and believe that the growth potential within India as well as outside India is phenomenal. We highly respect our customers and clients all over the world who have supported us to complete the projects of highest quality standards and in shortest possible time.
I believe at this rate of growth Angelique can hope to become within a short period - one of the leading EPC companies of India.