President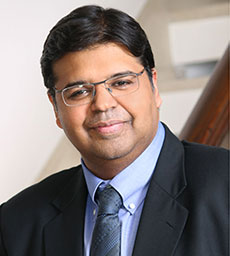 Ajay Krishna Goyal
[
President
]
The company is young and has made exceptional progress in the last decade. Since inception in 1996 the company has grown to become a strong EPC company and has to its credit having executed more than 100 projects successfully in international competitive markets of Africa, South & South East Asia, Middle East and Central America. This was possible only with the exceptional hard work, initiative and dynamic vision of my father - the founder chairman, Mr. Daya Krishna Goyal.
Unfortunately he is no more with us today but I have inherited the same vision as that of my father and today the company is set to scale new heights with the path and direction he had chosen to make Angelique a truly global EPC company.
The company is now implementing its ambitious plans to diversify into mining and renewable energy sectors in Africa and increase its presence in the Latin American markets. The domestic sector will also have new focus on the railway sector which offers immense potential.
The company has exceptional talent of qualified engineers and professionals fully dedicated and committed to take the company forward.
We will continue to work on "his philosophy and belief".