People
At AIL our strength is our people, they are our most valuable assets. We have a people first approach in all our organizational strategy, while taking up turnkey projects in Countries abroad and sites within India, all our success is built on the intellectual abilities, perceptions and intelligence of our employees.
We have ensured that to attract and retain quality manpower we are using integrated HR Systems and processes (Recruitment, Training, Appraisals etc.) based on competency Model.
As a first step towards securing dynamic and matured people plan in AIL, we give ample emphasise on having quality employees on board for understanding and conceptualizing each work with clarity, vision and practical approach. True to its calling at AIL, more than 71% of our employees are Engineers, out of which 46% are degree Engineers and 23% are Diploma Engineers.
QUALIFICATION PROFILE OF EMPLOYEES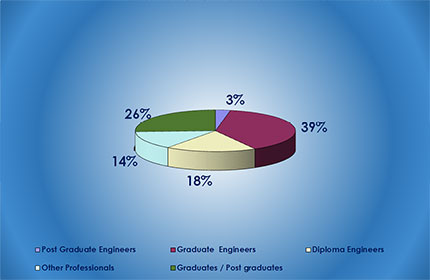 EXPERIENCE PROFILE OF EMPLOYEES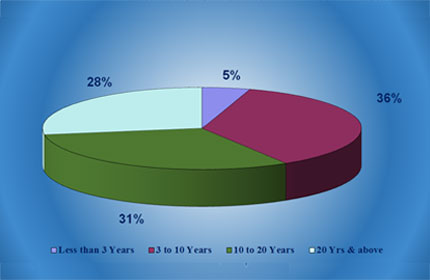 Culture - Our Values, Our strength
We are an organization which believes in and works tirelessly towards building a 'High Performance Culture' for this we constantly put our efforts towards aligning People, plans and processes. Our key processes and new technologies are regularly communicated at all levels. Each employee has the freedom and opportunity to contribute to the betterment and economization of various procedures and systems being followed at AIL. The employees are encouraged to give suggestions freely, this in turn gives a level playing field for our People to learn, explore and put their highest and best performance forward.
Each employee identify with the core values at AIL and works consistently to inculcate, implement and exhibit these values through the prestigious Projects being executed at various locations throughout the world:-
Our Core Values are:
Quality
Respect for Individuals
Innovation and Continuous Learning
Collaboration and Team Work
Harmony and Social Responsibility
Involvement and engagement
Employees are involved in the organizational strategy and targets through alignment of their goals and targets with the organization as a whole, the employees are engaged by virtue of various events, leisure trips, picnics, recreations etc. organized by the organization @ AIL from time to time.
Dedicated R&R policy helps in bringing out the best in our employees and appreciate and facilitate them in the presence of their peers and colleagues.
In order to bring out and further enhance the strong underlying element of sense of belongingness and pride of our employees for being a part of AIL family we regularly participate in various external evaluation forums such as 'CII Business Excellence Process', 'Great Place to Work' etc. which reiterates our brand value as a 'preferred employer' for our People.